On the Répertoire du patrimoine culturel (https://www.patrimoine-culturel.gouv.qc.ca/ ), click on the "Types de patrimoine" tab.
Select "Patrimoine immobilier".
In the search tool, many options are available. The simplest way is to type in the address of the location you want to check out.
In the "Emplacement" option, type the civic number and street name. Click on "Lancer la recherche" at the bottom of that window: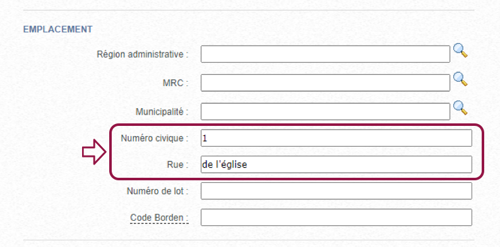 NOTE: It si possible to combine many search criteria, including elements that are in available in other options.
Many results may appear. Select the result which fits your search criteria by clicking on their name in the "Nom" column:
The description of the location appears.
When pictures are available, it is also possible to see the location in question.
The status is clearly indicated.