The Insurance Bureau of Canada is always keen to support the industry and policy holders in the various challenges it faces. The requirements for rebuilding or repairing a Heritage building differ depending on its attributed status. The entry into force of Bill 69 – An Act to amend the Cultural Heritage Act and other legislative provisions (Act) on April 1, 2021 requires municipalities to adopt and periodically update an inventory of buildings that have heritage value by April 1, 2026.
IBC provides insurance stakeholders and consumers with tools to fully understand the different statutes of buildings of heritage interest. A building to which a heritage value has been attributed, but which has no legal status under the Act, could be subject to other regulations, such as a municipal by-law. The tools presented deal only with buildings covered by the Act.
Table of requirements related to the statuses of Heritage Homes
Consult this table to understand the different statuses and related requirements.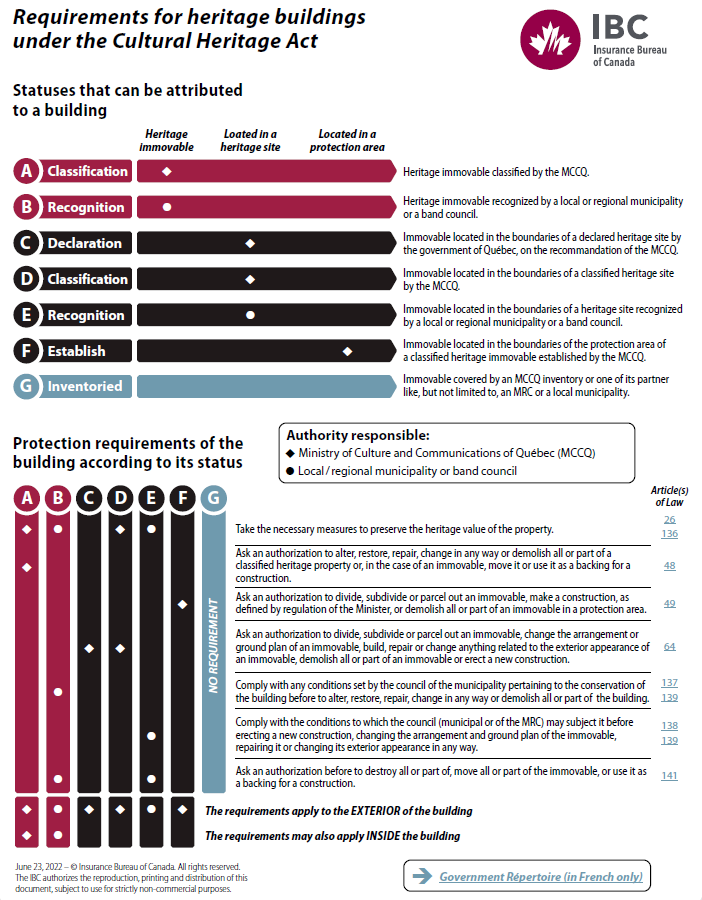 Search procedure on the Répertoire du patrimoine culturel du Québec
Consult this procedure (in French only) to confirm the status of a Heritage building on the Répertoire:
Directive of the Ministère de la Culture et des Communications du Québec
The MCCQ has published a Directive on work authorizations following an occurrence affecting a Heritage building under its jurisdiction. Consult the Ministry's Directive (in French only).